Sázení s přáteli nebylo nikdy snazší
TeamSázky ti umožní sázet se na zápasy s kamarády 
nebo kolegy z práce. Můžeš vytvářet skupiny, ve kterých se sázíte o pivo nebo peníze. Appka sama vyhodnotí vítěze a spočítá, kdo má komu kolik zaplatit. A když nikdo nevyhraje, můžete bank posunout do další sázky.


Aplikace TeamSázky je dostupná pouze pro uživatele starší 18 let ve vybraných zemích.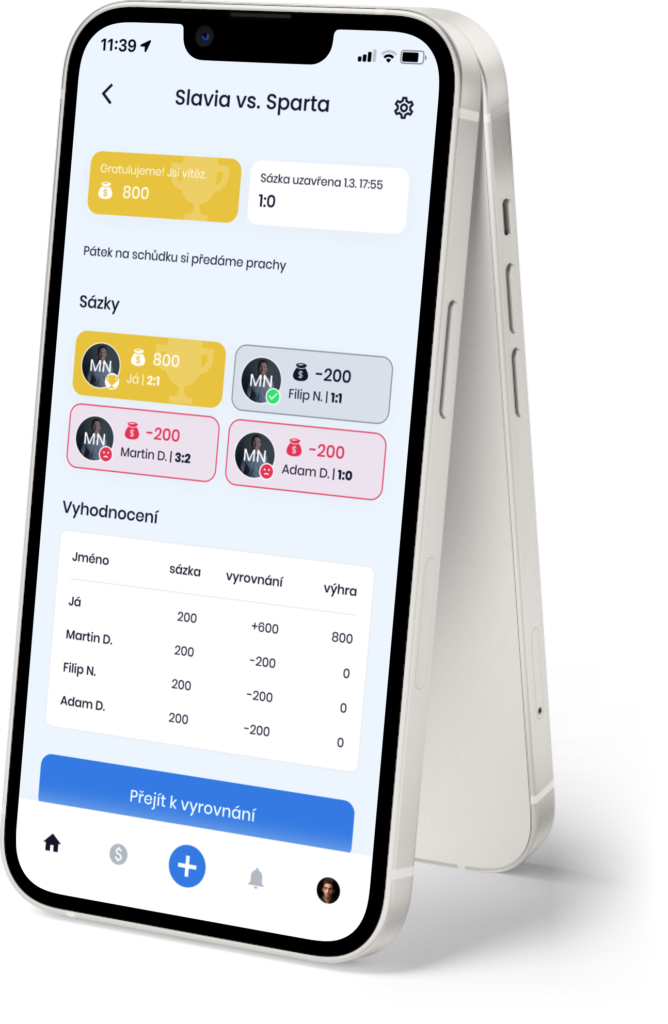 Komunitní sázení v aplikaci
Peníze a piva zůstávají ve vaší partě
Do skupiny pozvi kámoše a kolegy. Soutěžte mezi sebou a sázejte na výsledek. Členové skupin nevidí tipy ostatních, dokud sami nevsadí. 
Kdokoli ve skupině může založit sázku. Částku si stanovíte sami a hrát můžete klidně i o pivo.
Sázku vyhodnocuje tvůrce, který po zápase zadá finální skóre. Aplikace vyhodnotí vítěze a poražené.
Aplikace upozorní na konci zápasu tvůrce sázky, aby sázku vyhodnotil. Následně vítěz potvrdí, že dostal od každého zaplaceno.
Stáhni si appku a  sdílej radost ze sázení
Může se stát, že skóre nikdo netrefí a sázku nikdo nevyhraje. TeamSázky tobě a tvým kámošům, kteří už vsadili, umožní použít bank kdykoliv snadno do další sázky, čímž se potenciální výhra stále navyšuje. To je teprve zábava ze sázení!
Vytvoř ve skupine novou Teamsázku a přesuň bank ze staré, kterou nikdo nevyhrál.
Hraje se,
dokud někdo nevyhraje
Bank můžete kdykoliv přesouvat na libovolné zápasy a zvětšovat až dokud se někdo netrefí.
Jak bank postupně roste, roste i napětí a o to je výhra nakonec sladší.
Nevíš si rady, nebo máš nápad na zlepšení? Dej nám vědět.